What are the size and weight of a watch/clock?
Size description, on a catalogue/leaflet is shown as left(D),(H) and(W)
(1) Watch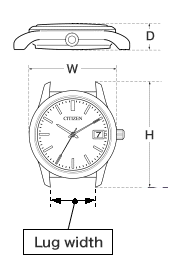 Size
Displays the vertical (H), horizontal (W), thickness (D), and maximum dimensions.
The thickness (D) is from the top of a glass or rotating bezel to the case back surface, excluding the thickness of the magnification lens on the glass.
The illustration or photograph of the watch usually shows a magnification like full size or such as 70%.
Weight
The weight includes those of the watch body and strap/bracelet, and excludes such as tag(s), card board(s), etc.
Lug width
The lug width is the inside dimension of the case legs to which a strap/bracelet is installed. Since the width of the strap/bracelet should be almost same as the lug width, when replacing the strap/bracelet, please use the same dimension of strap/bracelet width as the lug width of the case.
(2) Clock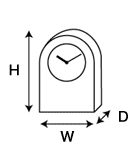 Size
The maximum length(H), width(W)and thickness(D) are shown.
Weight
The weight is approximate including battery(ies).